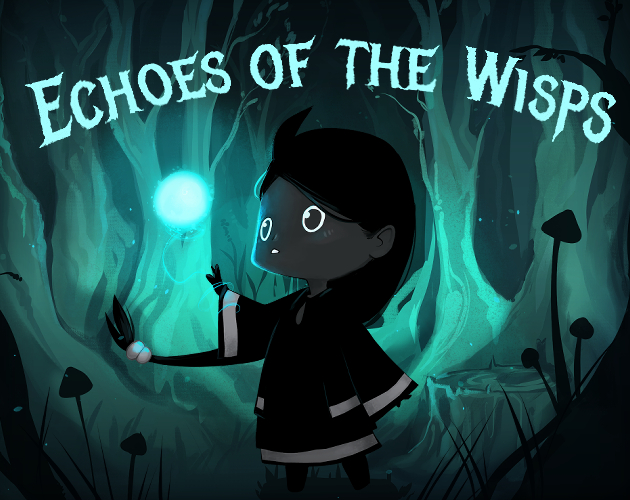 Echoes of the Wisps
A downloadable game for Windows
About the Game
"Echoes of the Wisps" is a 2D side-scroller stealth game, set in a creepy mystical swamp, where you can send out your Wisps to use their teleport ability or to distract your enemies.
Plot
You are Lyna, a young girl, living in a small village next to a deep dark swamp. Since ancient times the swamp has provided fertile soils, but there are stories of people, who get lost in it and never return. Your village chief has fallen seriously ill. Only a rare flower with magical healing powers can cure him. To obtain the flower you have to go right into the swamp. But don´t think the swamp will let you get the flower easily. Once entered, the swamp will try ANYTHING to stop you!

But don't worry: The Wisps are there to help you. They give you mysterious powers to accomplish your mission...
The Team

This game was our second semester project at "S4G School for Games Berlin"

The game's website: http://www.lkokemohr.de/s4g/projekte/EchoesOfTheWisps


Christian Sicari: Production, Engineering, Game Design, Vision Keeping
Kathleen Schnaars: 2D/3D Environment Art, Art Direction
Emircan Er: 2D Art, UI-Art, Tech-Art, Animation, Level Design, Game Design (Enemy)

Zoe Hackmann: 2D Character Art, Character Animation, Marketing Art

Credits
(Main Menu Music)
The following music was used for this media project:
Music: Memories From Lost Worlds by MusicLFiles
Free download: https://filmmusic.io/song/7494-memories-from-lost-worlds
License (CC BY 4.0): https://filmmusic.io/standard-license
Artist website: https://cemmusicproject.wixsite.com/musiclibraryfiles
(In-Game Music)
The following music was used for this media project:
Music: Road To Dark Tower by Rafael Krux
Free download: https://filmmusic.io/song/5314-road-to-dark-tower
License (CC BY 4.0): https://filmmusic.io/standard-license
Artist website: https://www.orchestralis.net/
Download
Download
Echoes of the Wisps 1.3.zip
93 MB